If you're looking for the best cross stitch books on the market, you've come to the right article. There's something for everyone here, from "I thought aida cloth was a Verdi opera" to "I've tried to plumb the depths of cross stitch experience, but I'm sure there are hidden corners I've left unplumbed."
There are two elements that make up the best cross stitch books. The first is instruction on cross stitch techniques and the second is charts. Almost every cross stitch book will be a combination of both; what separates the beginning books from the intermediate or advanced books is the proportion of each. Beginning books will have a lot of instruction, usually a section set aside to learn the basics as well as some directions included with the charts. The intermediate and advanced books will have bare-bones instruction in them, but not enough for a true beginner. They are made up of mostly charts, with a few instructions thrown in for stitchers who need a refresher. Charts are colored grids that are like a pattern for cross stitch. They often include specific colors of threads to use as well as symbols for what kinds of stitch to use (there are a few that are used in cross stitch).
The following list of the best cross stitch books has been separated into two sections: beginner and intermediate/advanced. Each book's difficulty has been rated on a system of one to four X's (to symbolize cross stitches!). One X means absolute beginner; only books that have detailed instructions on technique will get this rating. Two X's means intermediate, 3 X's means advanced intermediate, and 4 X's means advanced. Most books have a range because they include patterns suitable for stitchers at different levels of experience.
THE BEST CROSS STITCH BOOKS FOR BEGINNERS
The New Cross Stitcher's Bible: The Definitive Manual of Essential Cross Stitch and Counted Thread Techniques by Jane Greenoff

DIFFICULTY LEVEL: X–XXXX

FOR: the beginner who wants a thorough and accurate book that will grow with them.
There is a sizeable section for people who barely know the eye of the needle from the pointy end, and the rest of the book is an encyclopedic reference for intermediate and advanced techniques.
---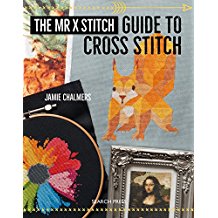 The Mr. X Stitch Guide to Cross Stitch by Jamie Chalmers

DIFFICULTY LEVEL: X–XX
FOR: the beginner who wants a bit of entertainment with their learning.
This fun, chatty approach to cross stitch is great for beginners who want to learn the ropes.
THE BEST CROSS STITCH BOOKS FOR INTERMEDIATE AND ADVANCED STITCHERS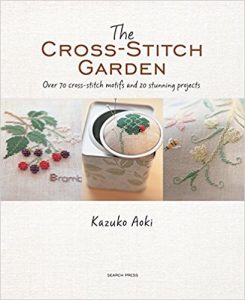 The Cross-Stitch Garden: Over 70 Cross-Stitch Motifs with 20 Stunning Projects by Kazuko Aoki

DIFFICULTY LEVEL: XX

FOR: The nature-loving stitcher who loves traditional heirloom style.
These motifs and the projects that Aoki has designed to go with them are beautifully naturalistic, rather than cartoonish. The soft colors and thoughtful details are timeless.

---


Tatreez & Tea: Embroidery and Storytelling in the Palestinian Diaspora by Wafa Ghnaim, ed. by Safa Ghnaim

DIFFICULTY LEVEL: XX–XXXX

FOR: stitchers who want to connect with an rich cultural tradition.
This gorgeous book contains cross stitch guidance and twenty-seven traditional Palestinian patterns, which is amazing in itself! It doesn't stop there, though; it also contains seven tea recipes, Palestinian Arabic handwork terminology, detailed histories of motifs, colors, and stitches, and stories from the author's family history as well as her own life.

---


Cross Stitch Creations Star Wars: 12 Out-of-This-World Patterns by John Lohman

DIFFICULTY LEVEL: X–XXX

FOR: the nerdy stitcher.
This collection of Star Wars designs spans A New Hope to The Force Awakens, and it includes a kit with everything you need to get started on a portrait of Yoda (something that every home needs).

---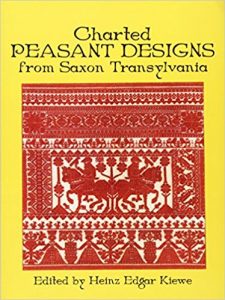 Charted Peasant Designs from Saxon Transylvania by Heinz E. Kiewe

DIFFICULTY LEVEL: XXX–XXXX

FOR: the history buff with a discerning eye for aesthetics.
The nearly two hundred charts in this book pre-date 1918. Intricate, fascinating, and stunning.
---


Storyland Cross Stitch: 15 Projects and a Free Gift for Your Stitching Pleasure by Sophie Simpson

DIFFICULTY LEVEL: X–XXX


FOR: the stitcher who dreams in fairy stories.
These designs and the projects they go with are as charming as a storybook but sophisticated enough to decorate an adult's space (and person!). Plus, it includes a mini-kit so you can get stitching right away!

---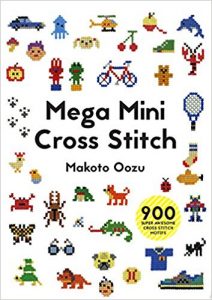 Mega Mini Cross Stitch: 900 Super Awesome Cross Stitch Motifs by Makoto Oozu

DIFFICULTY LEVEL: X

FOR: Nerdy stitchers who want to put their stamp on everything!
There are 900 tiny cross stitch motifs in this book, on pretty much any topic. Think of them as emojis for your personal effects!
---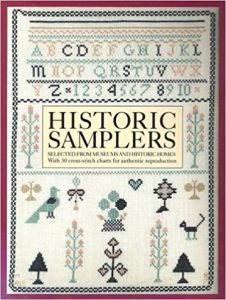 Historic Samplers: Selected from Museums and Historic Homes by Patricia Ryan and Allen D. Bragdon

DIFFICULTY LEVEL: XX–XXXX

FOR: those who want to honor the stitchers who came before them.
This book contains thirty charts for 18th- and early 19th-century American samplers, which were a popular way for young stitchers to learn techniques and for older stitchers to show off their talent. Making one yourself would be a great way to bring some stitch history into your home.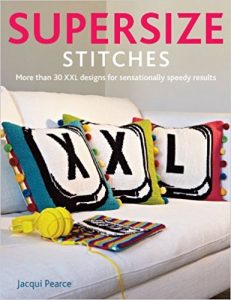 Supersize Stitches: More than 30 XXL Designs For Sensationally Speedy Results by Jacqui Pearce

DIFFICULTY LEVEL: XX–XXXX

FOR: stitchers looking for bold designs, a '60s/'70s retro sensibility, and a gratifying process. If the picture of the "Groovy Pouffe" at the top of this post doesn't sell you on this book, WHAT WILL?
Inspired? Check out these fifteen bookish cross stitch patterns. Or this collection of eight more bookish cross stitch patterns. Or these cross stitch bookmark patterns; perfect for the beginner! Wondering why you should consider using a cross stitch book instead of collecting posts from craft blogs across the internet? Check out this article: How to Use DIY Books in the Age of Online Tutorials.